Building a Video
The latest version of Karaoke Builder Studio now includes tools to let you convert your CD+G files to AVI video.
But this is no ordinary cdg-to-avi conversion because with Karaoke Builder Studio you can choose a photo-quality background on which to superimpose your lyrics: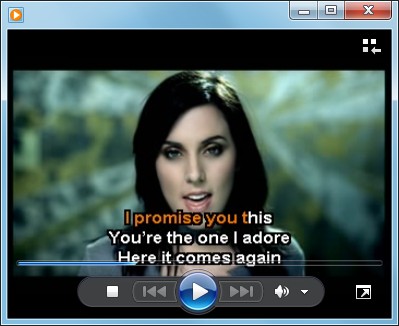 Ever wanted to create something like this? Now you can do it. You can even liven up your existing karaoke CD+G collection - it works with ANY CD+G track, whoever produced it. Yet another original feature (one of many) of Karaoke Builder Studio.
And with AVI you are one step away from creating your own DVD discs which will play in most DVD players. Now you don't even need a CD+G machine.
DVD Video
Although you can't create DVD files directly from Karaoke Builder Studio, our help file does explain the process in detail... and it's not really very difficult. The ultimate would be to add karaoke lyrics to a moving video background, and the help file explains how to do that too. You'll need some extra software, but you may already have that and if you don't, some of it's free anyway!
For more information check out the help file. Look under Tutorials and you'll find all you need to know, or email us at post@KaraokeBuilder.com.