Karaoke Builder Player
Use Karaoke Builder Player to play back your CD+G files before you write them to a CD+G disc. The Player recognises several different formats: CD+G, MP3+G and Audio+G (where 'Audio' is any other type of sound file). Lyrics are in sync with the music, and what you see in the Karaoke Builder Player is exactly what you'll see if you play the track on a CD+G machine:
Version 3.0 is NEW!
The Karaoke Builder Player has been massively upgraded, with a great new look and a comprehensive list of features and improvements. It's now even easier to play your own custom karaoke tracks (or MP3+G tracks from commercial discs).
The new Track slider now lets you jump to any point in a track instantly - scan through the whole track in seconds or replay parts of a track - useful when you make small changes with Karaoke Builder Studio.
As a stand-alone player you can even play your collection of MP3+G tracks directly from their ZIP files, or drag-and-drop files for instant playback.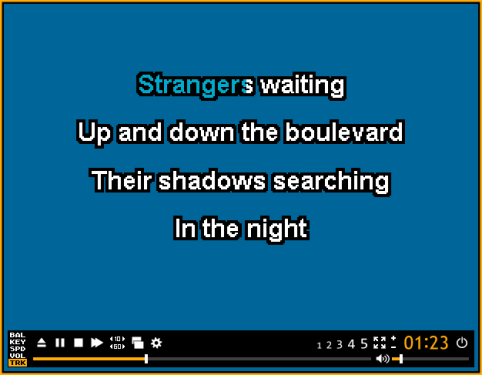 Change Balance, Key, Speed and Volume as you play your track, using the mouse wheel or, if you prefer, via the popup Options screen: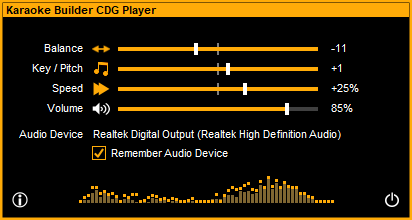 Click here to read all about the new and improved Karaoke Builder Player 3.0.